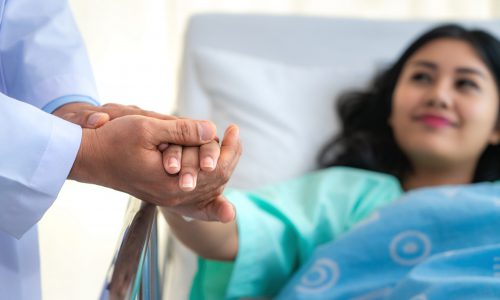 How Can I Use My Swipe Card?
For any physical discomforts and symptoms, you can use your Cocolife Healthcare card to see a doctor in an outpatient consultation. Find out the procedure here.
If your examining doctor needs you to be examined properly to evaluate your health by checking on your blood, urine, and stool samples – you need to undergo a diagnostic examination. Find out the procedure here.
How Can I Avail Of My Medical Benefits?
EMERGENCY CARE BENEFITS
"Emergency" is defined as "a sudden and unexpected onset of an illness or injury that at the time of occurrence reasonably appears to have the potential to cause immediate permanent disability or death, or that requires the immediate relief of severe pain and discomfort." Examples of these are: (a) immediate treatment of wounds or fractures sustained from an accident; (b) massive bleeding; (c) acute appendicitis; (d) acute myocardial infarction; (e) hypertensive cases, and (f) incessant and severe pain.
Given the urgency of the situation, you may seek treatment at a hospital or clinic that may or may not be accredited COCOLIFE HEALTHCARE providers. In accredited hospitals, you only need to follow the availment process. For emergency consultations and/or admissions in non-accredited hospitals, you will need to do the following:
Notify COCOLIFE HEALTHCARE of your confinement within 24 hours from admission.
Before discharge, settle all hospital bills and professional fees.
Secure the following initial requirements:

Hospital Statement of Account with PhilHealth Deductions
Charge slips / tickets
Official receipt of the hospital bills and doctors' fees
Clinical abstracts or medical certificate by the attending physician
Operative and histopathological reports (if any)
Police report in cases of accidents or medico legal cases

Submit the documents above with your request for reimbursement within 30 days from the date you were discharged to:
          HealthCare Division
          COCOLIFE
          8th Floor Feliza Building, 108 V.A. Rufino Street,
          Legaspi Village, Makati City
Claims are processed within ten (10) working days. We shall reimburse you 80% of your expenses, but this should not exceed the amount we would have paid to our accredited service provider, or up to an amount stipulated in your Master Policy.
Additional medical information necessary for the proper evaluation of your claim may be required. We shall advise you accordingly.
Reminder: Please call 812-9090 or 0917-536-0962 / 0922-892-8828 / 0908-894-7763 to advise us of your confinement.
IN-PATIENT BENEFITS
OUTPATIENT BENEFITS