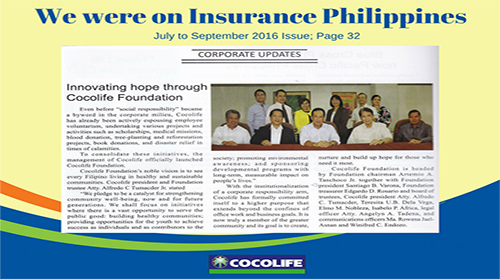 Even before  "social responsibility" became a byword in the corporate milieu, Cocolife has already been actively espousing employee voluntarism, undertaking various projects and activities such as scholarships, medical missions, blood donation, tree-planting and reforestation projects, book donations, and disaster relief in times of calamities.

To consolidate these initiatives, the management of Cocolife officially launched Cocolife Foundation.
Cocolife Foundation?s noble vision is to see every Filipino living in healthy and sustainable communities. Cocolife President and Foundation Trustee Atty Alfredo C Tumacder Jr, stated "We pledge to be a catalyst for strengthening community well-being, now and for future generations. We shall focus on initiatives where there is a vast opportunity to serve the public good: Building healthy communities; Providing opportunities for the youth to achieve success as individuals and as contributors to the society; Promoting environmental awareness; and Sponsoring developmental programs with long-term, measurable impact on people's lives."

With the institutionalization of a corporate responsibility arm, Cocolife has indeed formally committed itself to a higher purpose that extends beyond the confines of office work and business goals. It is now truly a member of the greater community and its goal is to create, nurture and build up hope for those who need it most.

Cocolife Foundation is headed by Foundation Chairman Artemio A. Tanchoco Jr together with Foundation President Santiago B. Varona, Foundation Treasurer Edgardo D. Rosario and Board of Trustees COCOLIFE President Atty Alfredo C. Tumacder, Teresita U.B. Dela Vega, Elmo M. Nobleza, Isabelo P. Africa, Legal Officer Atty Angelyn A. Tadena, and Communications Officers Ma Rowena Jael-Asnan and Winifred C. Endozo.