Early planning for any life-changing medical challenge is the core idea behind Cocolife's latest health and life insurance product, Cocolife Aruga. While it is true that you cannot predict the challenges of the future, you have the choice to prepare for the inevitable.
Cocolife Aruga: Medical readiness is key to a brighter future
Cocolife Aruga is a health and life insurance plan that covers medical expenses and provides financial coverage for future needs. It is the first plan designed in the Philippines to offer results-oriented health coverage beyond the usual lists of defined illnesses. Depending on your budget, the plan is available for a minimum face amount of P300,000 to a maximum amount of P5,000,000 payable for 10, 15 or 20 years
What can you expect from Cocolife Aruga?
Expect a nurturing and comprehensive healthcare package in your best interest. The plan provides cash benefits in case you suffer any of the covered major and minor health conditions. Aruga will pay 100% of the face amount for major health condition if you experience any of the following: life impact, major loss, and specific illness coverage.
As long as you satisfy two out of four straightforward criteria and are unable to work for eight consecutive weeks, you will be provided with the life impact coverage to support your recovery. Aruga will also provide cash benefits in case you will be diagnosed with specific illness, including cancer, heart attack, and stroke, or in case you suffer from a major loss of body parts.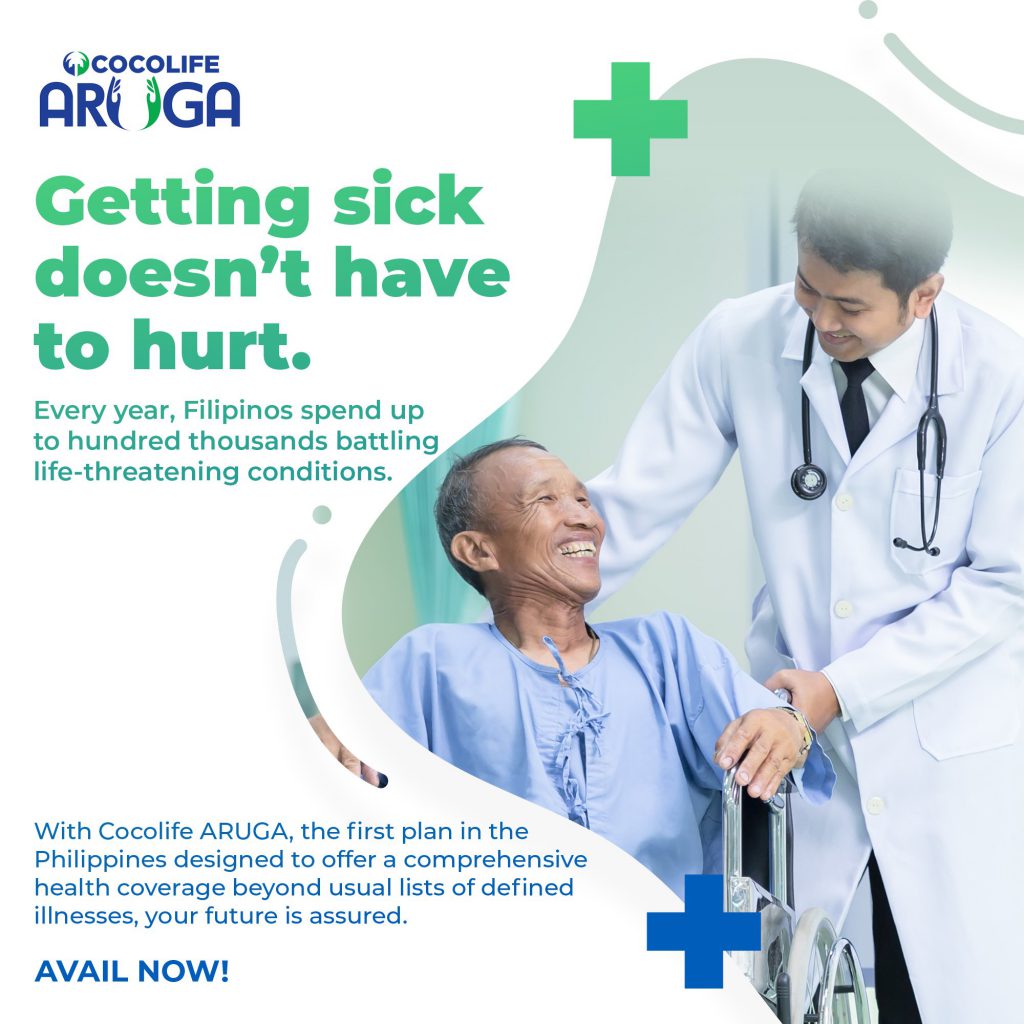 You will also receive 20% of your plan's face amount if you are diagnosed with one of the early-stage critical illnesses covered by Aruga, allowable up to two claims.
In addition to the medical coverage, Aruga offers a death benefit equivalent to the plan's face amount. As such, you need not worry about the financial security of your loved ones.
Furthermore, the health plan also has a Return of Premium feature; when you outlive your policy, you'll receive 100% of the basic premium payments which you can use to reach your future goals.
"The future's never been brighter with Cocolife Aruga. I am in secured and caring hands!"
Mr. Montelibano* is an active senior retail manager who tries his best to strike a good balance between career and family life. The 35-year-old family man leads a dynamic career in the retail business and finds time to exercise and engage in his favorite sports. He spends quality time with his wife and kids. He cannot help but feel anxious about his family's future. The future is uncertain, with many occurrences and unexpected health challenges. No matter how optimistic he is about the future, he still wants to ensure his family is financially secure.
While he is strong, active, and healthy, he wants to prepare early for his retirement and, eventually, his senior years. He secured a Cocolife Aruga plan with a coverage of P1 million spread over a 10-year plan. He pays P6,467.18 monthly.
Read the full feature on Bilyonaryo here.